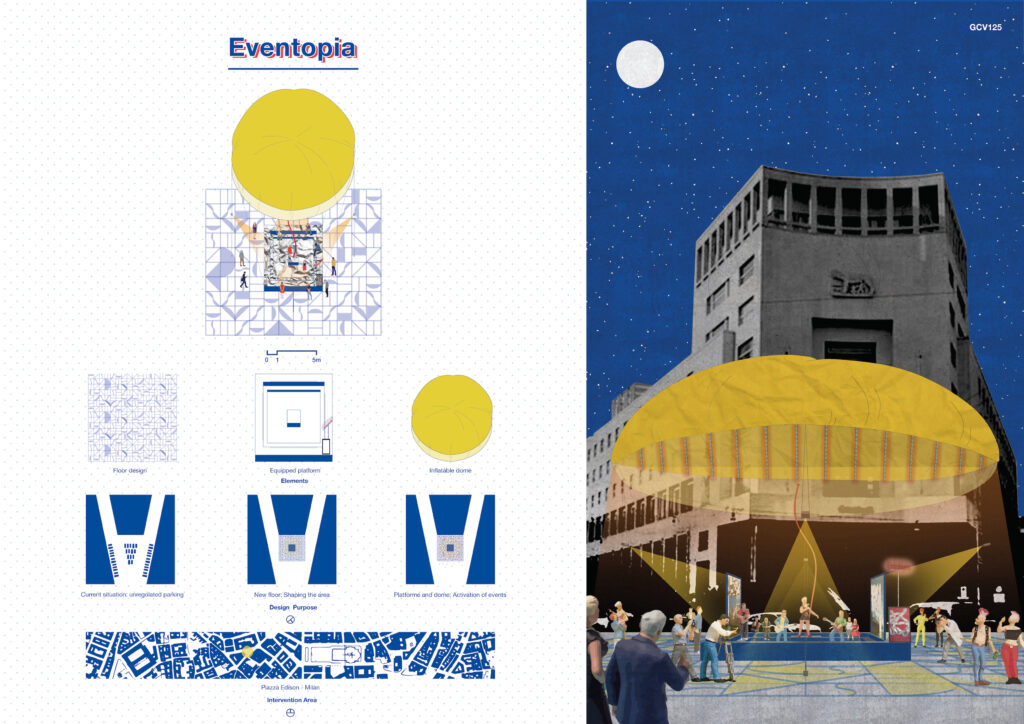 Eventopia: the Superficial Monument
Tactical Urbanism Now! Competition #2020
Milan is a city full of events. Events are extraordinary, transformative, evanescent. They turn on and off. Events are the new social ritual and they build the community. Eventopia is the possibility to design public architectures for public events. With an app for smarthphone and a public monitor you can organize your event and report it on the public screen of Eventopia. Everyone is invited to participate!
Personal performances, theatrical performances or improvised film projections: Eventopia is available to everyone and it's ready to satisfy every kind of desire! A platform full of technological equipment rests on a painted floor designing the intervention area. Sound systems, projectors, removable monitors. When Eventopia is activated, all its devices can be used and, if necessary, a magical plastic dome inflates electronically, transforming the spatial and lighting quality with its LED systems. During the daylight, when Eventopia sleeps, Eventopia is a huge bench for the whole community, in a place in the center of Milan, Piazza Edison, now invaded by parked cars. Its bright and reflective colors reveal its presence and importance. Eventopia is a new monument of the city, but an ironic one. You can sit on it, you can dance inside! You can use it however you want. It even has a power station to charge your electronic devices!

Welcome dear Eventopia.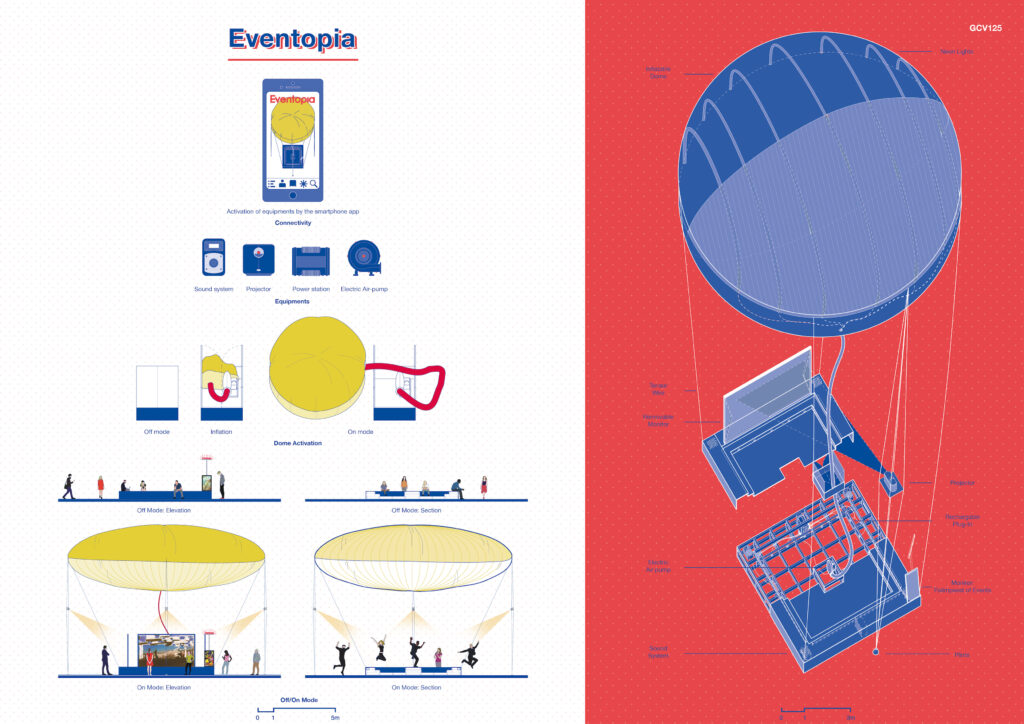 Eventopia: the Superficial Monument – Tactical Urbanism Now! Competition #2020

The challenge of this competition was to encourage participants to imagine a city where public space goes beyond the traditional conception of a park, a square or a street. The idea was to experiment with new urban scenarios able to promote social exchange, community activities and citizens' interaction through the implementation of multifunctional designs. Awarded projects were able to reinterpret the concept of Tactical Urbanism in unconventional ways, experimenting with original solutions capable of redefining the paradigm of contemporary public space. With a creative and unusual vision, the selected proposals conceived unique and innovative scenarios within the city.

#TerraVivaCompetitions